To be totally honest a Green Chili Sauce doesn't sound amazing but I have to say I do like Jalapeno Peppers and this is a great Green Chili Sauce. So here's a recipe that you will hopefully enjoy, It came about after consuming around half a bottle of Sriracha sauce on the weekend. Yes, I know Sriracha isn't a Green Chili Sauce but I have used it as a bit of inspiration along with Jerk sauce flavors.
This Green Chili Sauce Recipe makes: 0.75 liter – 0.8 US Quart – 750ml of chili sauce.
After making this Chili Sauce let it sit for 2-3 weeks before using, the flavor of the Green Chilies should sweeten and become smoother. This sauce should last for more than 6 months if you follow correct bottling practices and include all of the vinegar. After opening the sauce it should be kept in a fridge.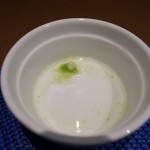 Before we get into the recipe I have a handy tip for you. When I'm making a new Chili Sauce for the first time I like to experiment with the ingredients I intend to use. So for this Green Chili Sauce I added a very small amount of the ingredients into a bowl and tested how each ingredient changed the flavor of the mix. You need to empty out the mixture and try different combinations until you find a good mix.
In my first test mix for this Green Chili Sauce I added too much ground cardamom and it overpowered the sauce. If I had added the cardamom in the same ratio for the actual sauce I could have ruined a large batch of my Green Chili Sauce.
So how does it taste? It's good, a big worry would be that the Green Chili Sauce might have a very bitter taste. Green chili peppers aren't usually used in hot sauces because the sugars haven't developed in the pepper, instead of a sweet flavor a green chili pepper can be rather bitter. The combination of banana, dark rum and palm sugar have worked together really well together, they don't mask or overpower the subtle flavor of the Green Chili peppers at all.
This is a good Jerk sauce, great on chicken wings. It's a very mild hot sauce, every other sauce recipe on this website is extremely hot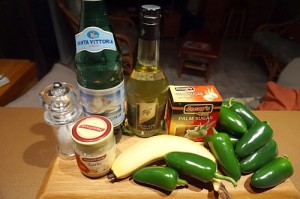 Green Chili Sauce Recipe Ingredients:
Green Chili Pppers ( 1 dozen or 400ml Jalapeno peppers)

1 Cup (200-220ml) Mineral Water
2/3 Cup (160ml)White wine vinegar
1 ripe Banana
2 tsp Dark Rum
2 large cubes Palm Sugar
1 tsp crushed Garlic
1 tsp Ground Allspice (ground Pimenta)
1 tsp salt
2-3 heavy shakes of ground Cardamon (Not too much!)
Please try to use the same ingredients and quantities as listed, this is a nice Green Chili Sauce. I wasn't going to add the Banana and I know most of readers won't be too impressed with this ingredient but this recipe is good and I'm not intending to change any quantities or ingredients the next time I make this green sauce.
Green Chili Sauce Recipe Instructions:
Don't use a lid while cooking this sauce.

Cut the tops off the Jalapeno peppers, do not remove the seeds.
Add the Jalapeno peppers , the one ripe banana and all of the White Wine Vinegar into a mixer/blender. Liquefy the peppers, this may take a few minutes.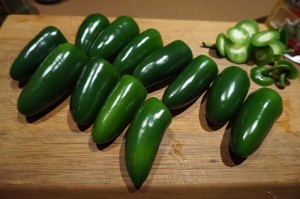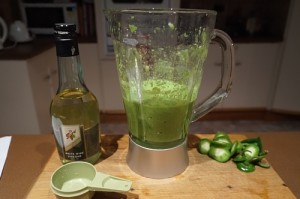 You should have roughly 600ml (2 1/2 Cups) of Jalapeno sauce.

Add the sauce mixture into a small pot.

Bring the heat up until the Green Chili Sauce comes to a slow rolling boil.
Add in the Palm Sugar, mineral water, 2 tsp of Dark Rum and 1 level tsp of crushed garlic.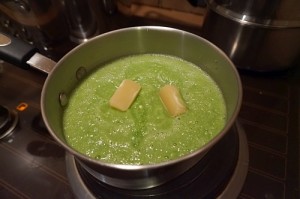 In the second picture you can see why I suggested not using a lid on the pot. This sauce foams up a bit when you first start cooking it.

Add the tsp of ground Allspice and a few heavy shakes of the Cardamom.
Have another taste after mixing the sauce and then let the sauce boil for at least 15 – 20 minutes before bottling. Bottle the sauce when it is still at boiling temperature (But be careful)
This is a runny sauce just like Sriracha sauce. I have been wanting to make another Jalapeno sauce for a number of months and I'm happy I cooked this up. I can see it replacing the Sriracha in the fridge, in terms of heat it probably has the same very mild heat level. At around 50% Green Chili Peppers it has roughly the same amount.
Well I hope I didn't leave anything out, this is a great Green Chili Sauce recipe. Do yourself a favor and try it out yourself.