Freezing chili peppers is a quick and simple way to store your Chili-Hot Peppers until you're ready to use them. Learning how to freeze chili peppers won't take long so lets get into the basics straight away.
There are two ways you can freeze chili peppers, the first method is to just clean them, then place the Chili-Hot Peppers into freezer bags or my preferred method of blending them first before freezing which will save precious space in your freezer.
As you can see leaving the chili peppers whole is not the best way to freeze chili peppers, you will run out of room really fast.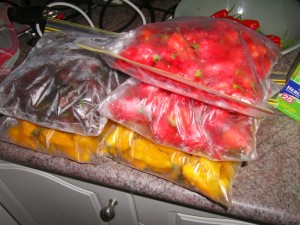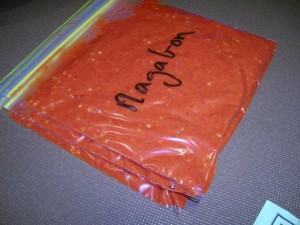 This week I picked a large amount of super Chili-Hot Peppers, these aren't exactly your standard peppers. They are by far the  hottest chili peppers in the world. The two types I picked this week were the Nagabon Jolokia cross from the HippySeed Company and the insanely hot Barrack Pore 7 Pod which is being labeled as the soon to be crowned Hottest Chili in the world, I have to agree that it's by far the hottest I've had.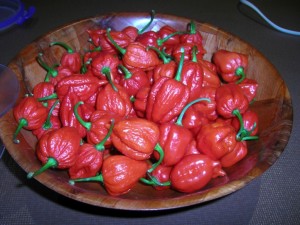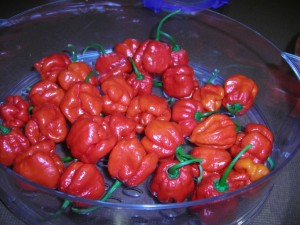 When selecting a Chili-Hot Pepper for freezing make sure it is fully ripe. I pick the peppers and leave them in a bowl to ripen for a day.
Once you have some nice ripe peppers thoroughly rinse the peppers in cold water, this will be the last chance you have to clean the peppers. Once they are frozen you want to keep them that way, handling a frozen Chili-Hot Pepper is so much easier. When frozen the risk of the chili peppers causing a skin irritation is greatly reduced.
If you do thaw out frozen Chili-Hot Peppers they tend to lose their rigidity, they will be wet and very mushy. If you try cutting them up when defrosted you will end up with very sore hands from the capsaicinoids which seem to leech out of the defrosting pepper. So the best method of how to freeze chili peppers is to blend them and then freeze. It only takes a few minutes and once frozen all of the work in preparing your peppers for a meal or hot sauce is already done.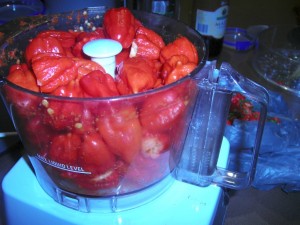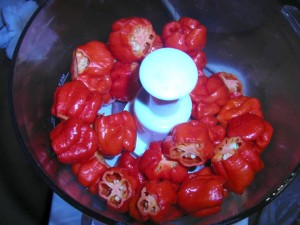 Always cut the green stalk off the top of your peppers and then check inside of the pepper for any mold or bugs.
If you have a large number of peppers its easy to blend them without the addition of any liquid. If the peppers don't blend down to a paste easily add in a very small amount of vinegar which is also useful as a preserving agent for the peppers. Be sure to only add in 2-3 cap fulls at the most, you don't want any liquid to be separating from the paste after its blended.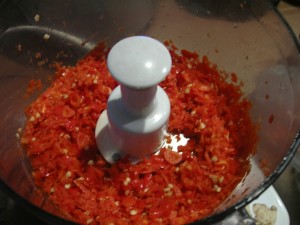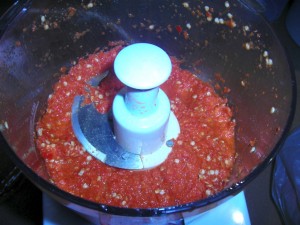 Once you have a nice thick paste you can simply spoon the blended chili-hot peppers into a freezer bag. Only add a small amount of paste to each bag, the idea is to be able to snap off small pieces of frozen chili pepper paste for a meal. You can also freeze the chili peppers using this method and use an entire bag or more to cook a hot sauce. Its just a great way to freeze chili peppers without taking up to much space in your freezer and saving you time in meal prep down the track.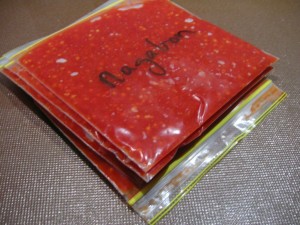 And that's how to freeze chili peppers.